Being a student at Barnsley Sixth Form College is about much more than your classes. Studying here is different to school; there are no bells, no uniforms and you'll call your tutors by their first names. You'll be treated as an adult and really start to develop your own learning style.
You will also have the opportunity to get involved in a range of activities, from the Students' Union to Enterprise, Student Voice or Enrichment.
Tutorials
At the start of your A Level journey you will be allocated a Personal Progress Mentor (PPM) to guide you through your time with us and support you in reaching your potential. They will monitor your attendance and progress against your target grades in all subjects and provide study skills support. In addition to this, your PPM will also provide pastoral and wellbeing support, give careers and university advice and support you through your UCAS application. You will see your PPM twice a week, once in your tutorial session and once in your study skills session.
Timetable
Your own timetable will depend on the subjects you choose to study and will include time for tutorials and directed study, which we call 'Independent Study'. Below you can see an example of the kind of format your timetable will take.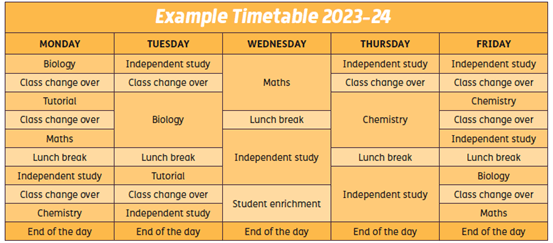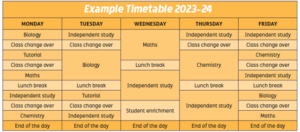 Studying
As a Barnsley Sixth Form student you can access a wide range of books and journals as well as computers, printing, and photocopying in the Nucleus. You will get a chance to see these facilities when you visit us on our Open Days. Your PPM will support you in developing your independent study skills. Remember, for every subject you study with us, it is crucial that you do five hours of independent study outside of the classroom.
After A Levels – university and careers
We want all our students to continue achieving their potential after leaving Barnsley Sixth Form College, so we provide guidance and research opportunities on career options and university applications. During your tutorial sessions you will receive information and guidance from your PPM, top tips from our alumni, support researching and choosing the right university course for you, support with student finance and student accommodation, help completing your UCAS personal statement and UCAS application, visits to universities, guest speakers and the opportunity to attend the UCAS convention. We also provide career advice on Higher Apprenticeships for students choosing this route.
Student Voice
Do you want to represent yourself and your classmates? You can become a Course Representative and attend departmental student forums. These forums provide the opportunity to have your voice heard and make changes to your course and to the College.
Students' Union

The Students' Union (SU) is here to represent, support and advise you on all aspects of student life. When you enrol you'll automatically become a member of the SU which is led by a group of students – the Student Union Committee – who are elected by you and supported by the SU staff.
Meet the Students' Union Team.
There are lots of volunteering opportunities available in the SU and a chance to be part of the student council as well as the elected position on the Committee. Being a part of the SU will help you develop some valuable skills and it looks great on UCAS applications and your CV. The SU is located in the Atrium in the lower ground floor at our Old Mill Lane campus.
Health and Wellbeing Centre
As a student at Barnsley Sixth Form College you can access the Health and Wellbeing Centre for free. We are based in the Old Mill Lane campus and offer advice and guidance on a range of different things. Visit our page to find out more: Health and Wellbeing
If you have any queries please contact us on 01226 216 233 or email us on hwbc@barnsley.ac.uk
Enterprise
If you are interested in setting up your own business, we can offer support and guidance. There are opportunities to get involved in a number of enterprise and employability programmes and projects whilst building your skills in communication, team work, problem solving and creativity. You will also be able to take part in an Industry Week that include talks and workshops from industry specialists.
Barnsley College's Enterprising Futures (BCEF) Fund
The BCEF Fund is an application-based grant that can be given to any College student to assist them financially in attending once-in-a-life-time opportunities. Previously we have helped students attend Camp America, Spanish Gardens and a Thailand Animal Sanctuary. Full details of how to apply are on Moodle, our student intranet or you can contact the Enterprise team:
Tel: 01226 216 840
Email: enterprise@barnsley.ac.uk
Equality and Diversity
We celebrate the diversity of people who learn and work in the College. We are opposed to any harassment or discrimination arising from: race, ethnicity gender, sexuality, age, disability, religion, faith, or class. Any inappropriate attitudes and behaviours will be immediately challenged.